x-ste-x My Brush Pack
Title :
x-ste-x My Brush Pack
Preview: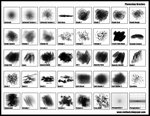 View Larger Preview
Other Info:
So here we go, this is my main brush set for anyone who's interested. I pretty much only use these brushes for all of my work now. They are saved as Tool Presets so the opacity and flow is saved with each brush and you should be able to use them along side your main brush library. To use them you'll need to save them to: Photoshop/Presets/Tools. Then once you're in Photoshop open up the tools preset menu and load them from there. I still use CS3 so I'm not sure how well they will work in later versions but hopefully they will load ok. I was intending to write up a description on certain brushes but nearly all of them are pretty straight forward. If you do need something explaining leave a comment here and I'll do my best to help out.
Brushes You Also might like .