Zoom (Magnifier) Photoshop & Vector Shapes (CSH, SVG)
Title :
Zoom (Magnifier) Photoshop & Vector Shapes (CSH, SVG)
Designed By :
shapes4free
Preview: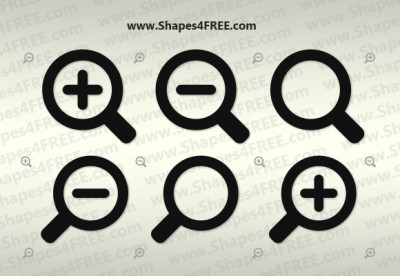 View Larger Preview
Other Info:
Today's freebies are zoom (magnifier) photoshop shapes (CSH/SVG vector format) ideal for web search (find) form design, preview buttons etc. Zoom vector shapes come in 3 states – simple magnifier custom shapes, zoom in photoshop shapes and zoom out shapes.,These shapes look great at small and large resolutions, although I designed them specially to look good at very small size.,You can use Adobe Photoshop CS3, CS4, CS5, CS6 to load and use these zoom symbols. Load them just like brushes. You can open the SVG magnifier shapes in Adobe Illustrator.,These free magnifying glass photoshop shapes are essential for any graphic design library as every web project would require a search form design. Be sure to download this simple freebie and don't forget to share the link with your friends!,.,Downloads: 30528,File Size: 69.76 kB,
Brushes You Also might like .