Urban Equalizer Brush
Title :
Urban Equalizer Brush
Designed By :
enigma-design
Preview: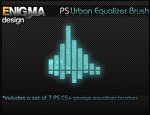 View Larger Preview
Other Info:
[caption id="attachment_1042" align="aligncenter" width="150" caption="Urban Equalizer Brush"]
[/caption] A fresh new brush hot out of the oven! This set of equalizer drifts has 7 brushes each with their own unqiue graphite / grunge look to them. *Brushes where designed in PS CS2 so you will need CS to use them. *brushes may not be used for anything pornographic, hateful or racial. All resources are completely free for commercial use and do not need to be credited, However we ask that you consider making a quick donation of $1.50 so we can continue to bring you the quality you deserve. Thank You!
Brushes You Also might like .