Untitled patterns 04
Title :
Untitled patterns 04
Designed By :
untitled-stock
Preview: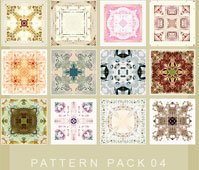 View Larger Preview
Other Info:
[caption id="attachment_759" align="aligncenter" width="199" caption="Untitled patterns 04"]
[/caption] Untitled patterns 04
These are patterns, but in a bigger size. You're required to: 1) Give credit to this account. – For LJ users read the requirements in my LJ account. 2) Send me a link to your Dev, either by noting or leaving a msg on my main page</strong> 3) It would be great if you could fav the deviation (if used) .. Makes me feel great for sharing my resources
Brushes You Also might like .