TATTOO Brush Set
Preview: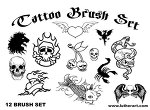 View Larger Preview
Other Info:
[caption id="attachment_1098" align="aligncenter" width="150" caption="TATTOO Brush Set"]
[/caption] I haven't seen a set that are "tattoo" images that you can slap on your work. So now if you need to put a tattoo on the chest of your version of Snake Plissken, well here you go! All these images were created by me. Please fave if you use and link back so others can check out your stuff. Free use in your images and works - can use in your print works if needed - NO COMMECIAL USE such as knocking out a ton-o-vinyl decals or shirts with these images Do not post on your own site for others to download - if you want to do so and feature this set, please ask first MAKE SURE TO CHECK OUT MY OTHER BRUSH SETS - pc
Brushes You Also might like .