Smoke brushes and Glitter Photoshop Brushes
Title :
Smoke brushes and Glitter Photoshop Brushes
Designed By :
redheadstock
Preview: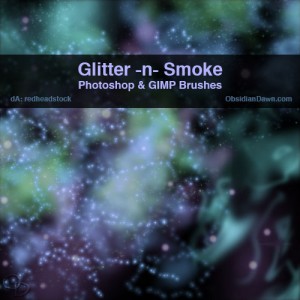 View Larger Preview
Other Info:
This is a new Smoke Brushes for photoshop ,
photoshop brushes
for free form redheadstock , he really made so great brush ,
photoshop smoke brushes
is compatibility with almost of Photoshop verstions , on
photoshop cc
you can find so many smoke brushes are made by redheadstock he's really great designer thank you redheadstock for the great Smoke brushes  and Glitter smoke  brushes, Compatibility: Photoshop 7, CS-CS6, CC Photoshop Elements 2+ GIMP 2.2.6+ Various dustings of glitter and smoke (or mist). Several types of glitter, several types of smoke (some cloudy, some swirly). These are a beautiful design for use as a stylized glitter, but also work great for space scenes, as the dust looks like space nebulae. They would also work great for fantasy stuff (pixie dust, magic)! free download this brush by pressing download brushes , you also can see so many other brushes around here some comments   i have photoshop cs6 and the upload cannot be completed because it's not the right file, whatever that means. what does it mean? Reply :iconredheadstock: redheadstock 17 hours ago Professional General Artist I'm not sure -- I've never heard of that one. They definitely will work with CS6, though. Are you installing them properly? (Just put them in the right directory and they should show up along with your other brushes when you restart Photoshop) Alternately, you could try "load brushes" or "replace brushes" and navigate to the file. If that doesn't work, let me know and maybe I can try re-uploading them here. Anybody else having trouble with the file? There's a chance the file I uploaded here din't get uploaded properly. Also make sure you're unzipping it. :) I have a link to how to install them on my website, as well. The one on my website definitely works (link in the description).
Brushes You Also might like .