Halloween Cat's Brush
Title :
Halloween Cat's Brush
Designed By :
altergromit
Preview: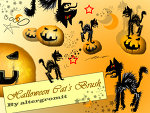 View Larger Preview
Other Info:
.Almost Halloween time... ...A brush for *PhotoShop CS 8.0* ...
(..It is only the cat: stars, moons, pumpkins are just for the pre-view)
...If you use it, please credit me and a link to your work would be nice...
...Thanks for viewing and downloading!!
Brushes You Also might like .