Email (Envelope) Photoshop Custom Shapes (CSH & SVG)
Title :
Email (Envelope) Photoshop Custom Shapes (CSH & SVG)
Designed By :
shapes4free
Preview: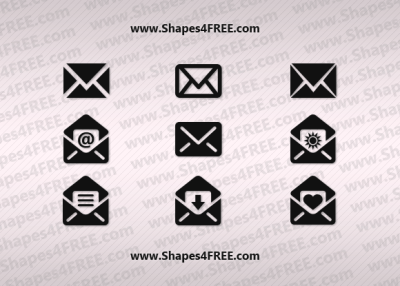 View Larger Preview
Other Info:
Today's simple and useful resource for designers is a set of 9 free vector email (letter, mail, envelope) photoshop custom shapes (CSH file format) and vector shapes (SVG). Use these envelope shapes symbols to create web icons for your templates.,Email brushes included in set – 4 closed letter photoshop shapes and 5 opened envelope shapes with sheets of paper (at sign, arrow, heart symbol, and sun). You can use Adobe Photoshop versions CS3, CS4, CS5, CS6 to open and use these email symbols to create email graphics, pictures, images, backgrounds etc. To open SVG email icons, use Adobe Illustrator.,Download this useful set of CSH shapes and view more beautiful photoshop shapes for designers.,If you don't know how to use photoshop custom shapes, read this quick tutorial and you'll be creating designs with shapes within minutes – How to install CSH shapes into Photoshop.,.,Downloads: 30049,File Size: 87.01 kB,
Brushes You Also might like .