City Brushes
Designed By :
drowelfrocker
Preview: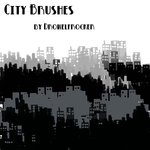 View Larger Preview
Other Info:
[caption id="attachment_1113" align="aligncenter" width="150" caption="City Brushes"]
[/caption] I was thinking the other day how useful it would be to have some very simple, ready-made building silhouette/skyline brushes for quickly painting in large areas of background. So I made these - a small selection of very simple city brushes. Nothing fancy, nothing especially detailed, but they work for doing areas of cityscape in the distance in backgrounds. For best results, on the 'brushes' menu, click 'scatter'. These were made with and for Photoshop 7, but may work on other versions. Free for non-commercial use, but please credit and link back. Have fun!
Brushes You Also might like .