90 Photoshop Gears Shapes
Title :
90 Photoshop Gears Shapes
Designed By :
shapes4free
Preview: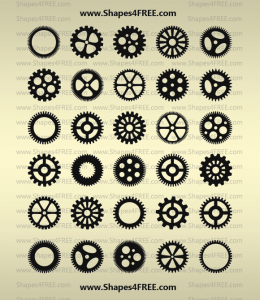 View Larger Preview
Other Info:
Image above is a preview of another 30 photoshop gears.,Image above is a preview of the rest 30 photoshop custom gears shapes.,Today I am sharing a great freebie I designed the other day – 90 custom gears shapes in CSH file format, all in one pack. This useful set of vector cog wheels can be used to create abstract backgrounds for your designs, creative illustrations, gear graphics and beautiful patterns. Open them in Adobe Photoshop CS3, CS4, CS5 and CS6.,Check out also these nice hand drawn vector gears for your designs.,Enjoy the freebie and don't forget to spread the word!,.,Downloads: 95462,File Size: 368.14 kB,
Brushes You Also might like .