60 Shopping/E-Commerce Photoshop & Vector Shapes (CSH, SVG)
Title :
60 Shopping/E-Commerce Photoshop & Vector Shapes (CSH, SVG)
Designed By :
shapes4free
Preview: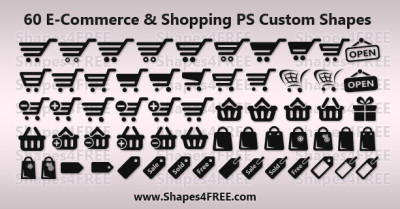 View Larger Preview
Other Info:
Today's free download is a set of 60 professional shopping & e-commerce photoshop custom shapes in CSH & SVG file format. These stylish vector silhouettes are ideal for e-commerce web designs and can be used to create custom shopping cart & basket buttons, icons, graphics and illustrations.,Download the zip archive, install the shopping symbols, start crafting your new design and enjoy the process and result. Photoshop custom shapes are vector-based, which means you can resize them to any size you like without losing any detail or quality. Supported Adobe Photoshop versions – CS3, CS4, CS5, CS6. The SVG e-commerce icons can be opened in Adobe Illustrator.,This set of beautiful shopping photoshop shapes icons is perfect for creating custom web design templates for e-commerce clients. An essential high-quality resource in your design tool box!,If you don't know how to install these shopping & e-commerce CSH shapes into Photoshop, read my quick tutorial about loading custom shapes in Photoshop.,.,Downloads: 77209,File Size: 95.51 kB,
Brushes You Also might like .