33 Sunburst Photoshop & Vector Shapes (CSH, SVG)
Title :
33 Sunburst Photoshop & Vector Shapes (CSH, SVG)
Designed By :
shapes4free
Preview: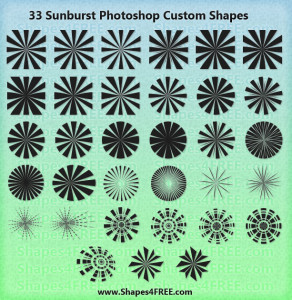 View Larger Preview
Other Info:
Today's freebie for designers is a set of 33 sunbursts photoshop custom shapes (or sun rays, sunbeams, ray lights, sunshine shapes) in CSH & SVG file formats. Use them to create amazing retro style designs, sunlit vector backgrounds, graphics, illustrations, posters, book covers. You can load these sunburst symbols into Adobe Photoshop software versions CS3, CS4, CS5, CS6.,Sunbursts silhouettes, if used wisely, not only fill spare space in your design, but also control the eye direction from the focal point to the most important elements, such as sign up buttons and navigation links.,One of my previous posts shows some great examples of sunbursts in web design – check it out to get inspiration. After that download and use these sunburst custom shapes for your design project before inspiration disappears.,.,Downloads: 59803,File Size: 453.74 kB,
Brushes You Also might like .