32 Fancy Stars Photoshop Custom Shapes
Title :
32 Fancy Stars Photoshop Custom Shapes
Designed By :
shapes4free
Preview: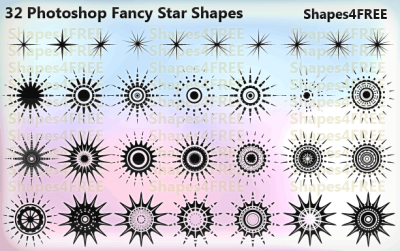 View Larger Preview
Other Info:
Photoshop star shapes will be invaluable assets in your design tool box. Whether your design is creative and colorful, pastel and light, or shiny and shimmering – these star symbol silhouettes will make it look beautiful and appealing. A nice addition to your collection of free vector shapes & silhouettes!,I'm sure you'll love these finely crafted photoshop star shapes! Imagine using them to create amazing abstract backgrounds, graphics, website headers and other design elements (brochures, posters, flyers, book covers). You can load these star icons into Adobe Photoshop CS3, CS4, CS5, CS6.,If you like these free photoshop star shapes, then you'll also like these intricate circles.,.,Downloads: 17194,File Size: 217.83 kB,
Brushes You Also might like .